Michigan Nissan Auto Dealer - Michigan Nissan Certified Pre-Owned Cars
Only Nissans that meet the highest of standards qualify for Certified Pre-Owned Status. These special vehicles must be less than five years old and have less than 60,000 miles on the odometer. Additionally, they must have a clean, non-branded title and, most importantly, pass a Comprehensive Quality Assurance 167 Point Inspection.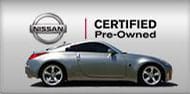 NISSAN IS BEHIND YOU EVERY STEP OF THE WAY
NISSAN HAVE GOT YOU COVERED ALL DAY, EVERY DAY.
Emergency roadside Assistance: 24/7 Emergency Roadside Assistance provides flat tire change with your good spare, dead battery jump, or lock-out assistance for the duration of the 7 year/100,000 mile limited warranty.
Towing: Up to $100 towing assistance. If necessary, we'll even tow your car to the nearest Nissan dealer within 250 miles.
Car Rental Reimbursement: Up to 5 days car rental reimbursement at a maximum of $35/day for mechanical breakdown of covered components.
Trip Interruption Coverage: If a mechanical breakdown of a covered part takes place when you are more than 100 miles from home, you'll be covered for up to $500 for meals, lodging and alternate transportation.
Certified Pre-Owned Limited Warranty - Ownership 

Transfer-ability: The Nissan certified Pre-Owned Limited Warranty is transferable from the retail customer to one subsequent private owner (private party to private party) for the duration of the warranty period. Click here to download a copy of the form.
LIMITED WARRANTY COVERAGE - 7 YEARS/100,000 MILES
Extensive Protection: The Nissan Certified Pre-Owned Vehicle Limited Warranty covers 600+ components, including: engine, transmission and drive train.
Coverage: 7 years from the original in-service date of the vehicle or 100,000 total miles on the odometer, whichever occurs first.
Authorized Nissan Repair Facilities: Find repair service nationwide through any authorized Nissan dealership. Contact your local Nissan dealer or call 1-800-NISSAN-3 for details.
Deductible: $50 per visit.
Genuine Nissan Parts: Coverage ensures that any necessary replacement parts will be made using Genuine Nissan new or remanufactured parts, or Nissan-approved parts.
INSPECTION - 167 POINT COMPREHENSIVE INSPECTION
If you've ever shopped for a Pre-Owned vehicle, you might give it a thorough going over. Or take it to a trusted mechanic. But you might still wonder, did you miss anything?
With a Nissan Certified Pre-Owned vehicle, you don't have to wonder. Your Nissan dealer takes the vehicle to the best mechanic they know, a Nissan-trained mechanic. Using state-of-the-art equipment and a discerning eye, each Pre-Owned Nissan gets an obsessively detailed inspection prior to earning Certified status. The result: A vehicle you can depend on for years to come.
CARFAX REPORT - 3-YEAR BUYBACK GUARANTEE: BUY WITH CONFIDENCE
Every Nissan Certified Pre-Owned Vehicle comes with a free CARFAX Vehicle History Report and a 3-year Carfax Buy Back Guarantee.
Buy With Confidence: Every Nissan Certified Pre-Owned vehicle comes with a free CARFAX vehicle History report and a 3-Year CARFAX Buy Back Guarantee. you can view the CARFAX Vehicle History Report of every Nissan Certified Pre-Owned Vehicle in inventory at no charge to you. Based on information from more than 86,000 data sources, CARFAX instantly generates a Vehicle History Report that may include, but is not limited to , the following:
Title information, includeing salvaged or junked titles
Total loss accident history
Odometer readings
Lemon history
Number of owners
Accident indicators, such as airbag deployments
State emissions inspection results
Service Records
Vehicle use (taxi, rental, lease etc.)
CARFAX also provides the 3-Year CARFAX Buyback Guarantee that reduces the risk involved in buyin a Pre-Owned Vehicle. For more information about the coverage, please visit
www.carfax.com
.
ROADSIDE ASSISTANCE - COVERING YOU ALL DAY, EVERY DAY
With this Certified Pre-Owned Vehicle Limited Warranty, Nissan is providing you with an Emergency Roadside Assistance Package for a period of 7 years from the original inservice date of your Certified Pre-Owned vehicle or 100,000 miles on the odometer, whichever occurs earlier.
Call (800) 225-2476 for 24-hour emergency roadside assistance
For the duration of your Limited Warranty, a qualified representative will assess your needs and dispatch assistance, with no out-of-pocket expense up to $100 for:
Batter boost (jump-start)
Flat tire change (using your good spare)
Out-of-gas delivery ($5 maximum fuel)
Lock-out assistance
TOWING ASSISTANCE:
If your vehicle is disabled due to a MECHANICAL BREAKDOWN, the Roadside Assistance Representative will arrange for your vehicle to be towed to the nearest Nissan dealership whenever possible, or to the nearest authorized repair facility. This coverage provides for towing cost not to exceed $100 per claim.
ADDITIONAL BENEFITS:
Car Rental Assistance - Receive reimbursement for car rental expenses up to $35/day, to a $175/5 day maximum, when you need to rent a car while your Nissan is being repaired due to a failed covered component. Trip Interruption - Reimburses you for meals, lodging and alternative transportation up to $500 if your vehicle is disabled due to a mechanical breakdown caused by a covered component and you are more than 100 miles from home.
EXTENDED PROTECTION - COVERING MORE THAN 1,300 COMPONENTS
Nissan's Security+Plus Extended Protection Plan covers more than 1,300 components. Combine this with the 600+ comonents already covered by the Certified Limited Warranty and you benefit from over 1,900 covered components.
Additional Components: The following component coverage is exclusive to the Security+Plus Extended Protection Plan: electrical, audio/video/navigation, suspension, steering, climate control system, and brakes.
Terms: You have two available options to extend your coverage based on the folliowing items:
7 years/100,000 miles, or
8 years/120,000 miles
Deductible: $0 deductible for any covered repair
Give us a call 800.300.2925 to talk about the Security+Plus Certified Pre-Owned Extended Protection Plan.